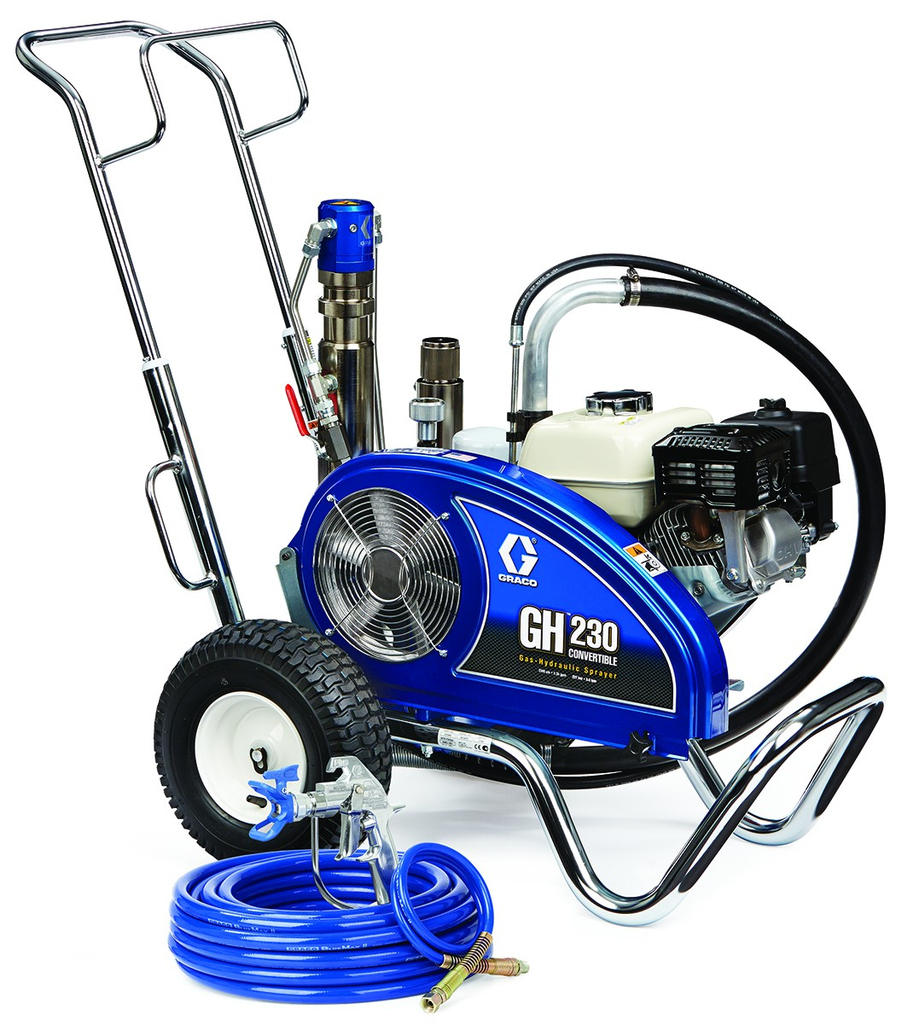 24W929 GH230 Standard Series
Graco 24W929 GH230 Standard Series
Click HERE for the Gas Sprayer Brochure
The GH™ 230 Convertible is the most versatile sprayer for the professional contractor who is looking for workhorse hydraulic performance for large commercial and residential construction jobs. With the ability to change out the pump lower and convert to electric power without tools, you can be assured that you have the most versatile sprayer on the market today.

 Includes: Silver Plus Gun, 50' x 3/8" Hose & 517 Tip
 Maximum Tip Size: .053
 Operating Pressure: 0-3300 psi
 Gallons per Minute: 2.35
 Motor: Honda GX200
 Weight: 168 LBS 

Standard Series sprayers come with these "Only On A Graco" features:

High-Efficiency Hydraulic Motor—Graco's hydraulic pump delivers rock-solid performance time after time and keeps you up and running

Endurance™ Pump—Graco's Endurance Pump is the most rugged and reliable pump on the market today

High-Capacity Cooling System—A hydraulic pump is only as good as its cooling system, and Graco's innovative design allows the pump to run cooler and more efficiently

220 cc (6.5 hp) Honda® Engine—Compact, lightweight, and powerful, Honda engines are reliable, technologically advanced, and easy to start

Indoor and Outdoor Use—Quickly swap the gas engine for an electric motor in seconds, without tools

Easy Out™ Pump Filter—The Easy Out pump filter is designed to filter from the inside out so filters won't get stuck or collapse when filled with dirt or debris

Rugged, Durable Cart Design—With a Graco sprayer, it's not just the mechanical parts that are built to last. Our carts are built to deliver years of performance.

 
---